The market update for India in June 2021, with focus on construction sector, is as follows.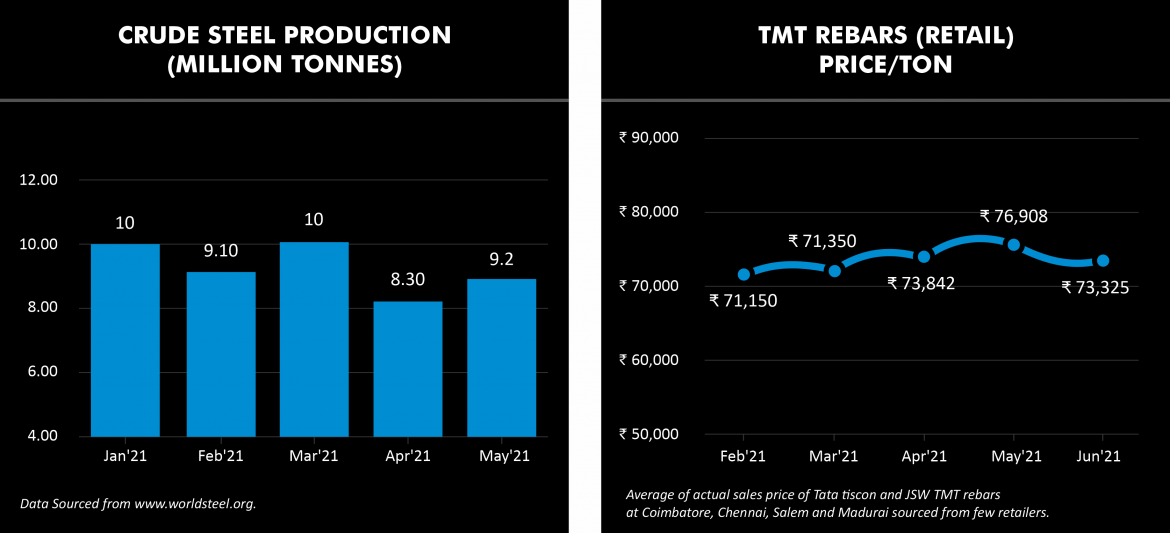 Crude Steel production bounced back from the dip in April 2021 to reach 9.2 MMT in May 2021.
After rising continuously since February 2021, retail prices of TMT rebars in Tamil Nadu fell by Rs. 3,583 per ton to Rs. 73,325 per ton in June 2021.
After a substantial jump in May 2021, cement prices fell marginally in June 2021 to Rs. 476 per bag.
Crude Oil prices continued their steady climb, reaching USD 73.16 per barrel in June 2021.
Sensex and Nifty were close to their all-time highs in June 2021, climbing ~ 1% over the month.
As India came out of lockdowns, the Consumer Confidence Index of the RBI increased marginally from its all-time low of 48.5 in May 2021 to 49.1 in June 2021.
As Indian economy recovered, Gold prices weakened; falling 4.7% to Rs. 4,410 per gram by end of June 2021.